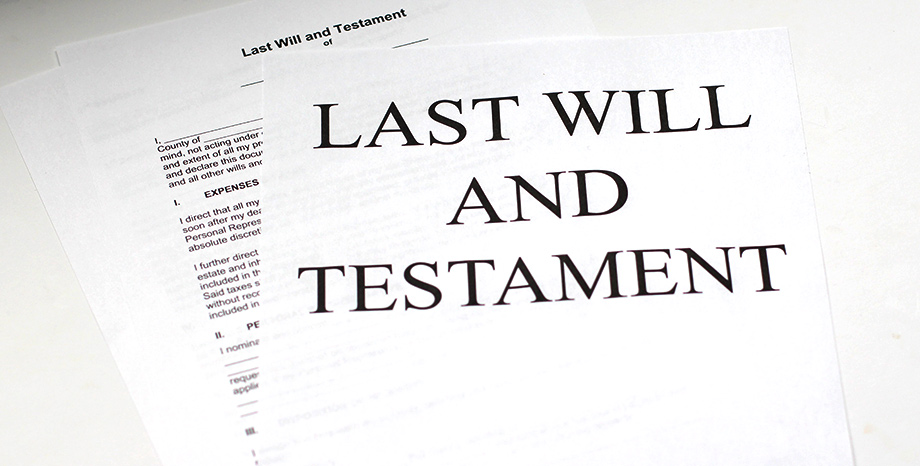 Wormald and Partners – Probate Services
Probate
Probate refers to the proving of a Will before a probate court and can be obtained by the deceased's Personal Representatives who can be family members, friends or professional persons.
Personal Representatives are usually the executors detailed within the Will or can be those determined by the rules governing the situation where someone dies without leaving a valid Will, under the rules of Intestacy.
What exactly is Probate?
In essence, Probate is the process of obtaining a grant of representation by the deceased's executors so that they can administer the Estate and deal with the distribution of assets to the beneficiaries under the Will.
There are two types of grant of representation and these are:
A grant of probate which is applied for by the executors where there is a Will
Letters of administration provided in cases where there is no Will
Is a grant of probate always required?
There are some exceptions when it is not required to obtain probate and, typically, relate to the following situations:
The deceased's assets are worth less than £5,000
Where all of the assets pass directly to a joint owner – usually a spouse
It is important to check with a professional adviser in order to confirm whether probate is required in any particular case.
How long does it take to obtain probate?
The length of time taken to obtain probate can vary considerably between estates depending upon the complexity of each estate. Typically, however, it takes between 6 and 12 months – and sometimes longer – to obtain probate.
Accountants can now apply for probate
Traditionally, we have been able to assist with the preparation of the application for probate and in calculating the Inheritance Tax liability of an estate.
However, under new regulations now in force, the Institute of Chartered Accountants in England and Wales (ICAEW) has become an approved regulator for probate services and this means that an approved Chartered Accountant and ICAEW member can provide a full probate service.
As a leading professional firm, Wormald and Partners is now amongst the members of the ICAEW to be licensed to provide non-contentious probate services. In order to become licensed, we have satisfied the ICAEW that we have the necessary experience – and qualified personnel – to provide such services to a high standard and that those standards will be maintained into the future. This process is referred to as "accreditation".
Accreditation
Wormald and Partners are licensed by ICAEW to carry out the reserved legal service of non-contentious probate in England and Wales.
Details of our probate accreditation can be viewed at www.icaew.com/probate under reference C005700139.
Wormald's Probate Team
The probate team is led by partner Neil Dando who is ably supported by experienced members of the accountancy and tax staff of the firm.
Probate services
In addition to those services associated with the obtaining of probate, we offer a full range of services relating to Inheritance Tax (IHT) planning, advising on Will planning and related services such as in relation to Lasting Powers of Attorney. In conjunction with legal advisers, we also provide support in connection with tax-efficient methods of minimising the IHT liabilities of estates including Deeds of Arrangement where relevant.
In relation to probate and estate administration services, we include the following services (non- exhaustive) :
Establishing the value of the estate
Calculating the IHT liability of the estate and determining the process required to obtain probate, if required
As necessary, completing the forms needed for submission to H M Revenue & Customs (HMRC) in order to agree the IHT liability
Completing the application for the grant of probate and receiving the grant of probate in due course
Collecting the assets of the estate and accounting for such assets as part of the process of distributing the assets to the beneficiaries under the Will
As part of the above, advising the Trustees of the estate on related tax reporting obligations and assisting in the execution of the Trustees' duties in this respect
Of course, every estate is unique in terms of the services required and we tailor our services in order to support the Personal Representatives in discharging their obligations in ensuring that the affairs of the estate are dealt with professionally and in a timely manner.
Probate fees
Fees in relation to dealing with the Estate of the deceased tend to vary considerably due to the complexity of an individual's affairs and the composition of the Estate in terms of assets and liabilities.
As we only offer probate services to clients of the practice (we do not provide such services to persons who were not clients before they passed away), we are already familiar with our clients' background and history which saves time in understanding the services needed after their demise. We probably were involved with their IHT and Will planning exercises pre-death and will be familiar with their family members and details of their beneficiaries.
Having said that, each client assignment will be different and our services will vary according to such considerations as follows:
Whether there is a surviving spouse or partner
If there is a Will or is this a case involving Intestacy?
Whether the estate is taxable
Executors – how many are appointed under the Will?
Details of the beneficiaries to be ascertained
Ascertaining details of all assets and liabilities – and the valuation of assets
Assets abroad – will separate probate be required to administer such assets held in an overseas jurisdiction?
Details of anyone who was supported financially by the deceased and who, may therefore, have a claim to part of the estate
The value of any gifts made within seven years before the death of the deceased
All of the above considerations (and many more) will determine the level of our services required in both dealing with the estate and obtaining probate and then, as necessary, administering the estate and making final distributions to the beneficiaries.
Our fees are time-based and will be determined by the time taken to deal with such matters by Neil Dando and members of his support staff, depending upon their seniority. Typical costs start at around £1,950 + VAT and can range up to approximately £7,500 + VAT for more complex cases. In our experience, however, most probate and estate administration exercises cost between £2,500 and £6,500 + VAT and – although we do not commit to fixed fees – we will keep clients informed of the build-up of fees upon request.
Probate Compensation Scheme and Complaints Procedure
As we are accredited by ICAEW, and in the unlikely event that we cannot meet our liabilities to you then you may be able to seek a grant from the ICAEW's Probate Compensation Claim.
Moreover, we do operate a complaints procedure and details are included within our client engagement letters which will be agreed before any new assignment commences.
Clients also have the right to take up any complaints with our professional body, The Institute of Chartered Accountants in England & Wales (https://www.icaew.com/regulation/complaints-process) and the Legal Ombudsman by letter (Legal Ombudsman, PO Box 6806, Wolverhampton, WV1 9WJ).